Stairs & walk zones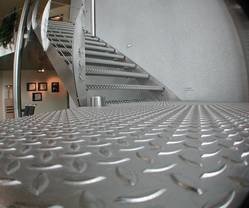 Furniture, railings, stairs and stair boards are also electro-polished, mostly for esthetical reasons. Electro-polished steel combines perfectly with the wood, colours and it's easy to clean - the surface shows less fingerprints.
Packo Surface Treatment also offers a special non-fingerprint treatment. This results in a satin gloss where light pollutions and damages are well concealed.
Electro-polishing keeps diamond plate free from black staining in walk zones. The surface gets a satin gloss and the complete surface remains a uniform colour.
Please send your requests to: marc.quaghebeur@packo.com.
Recommended treatments: micro-undulation, electropolishing, pickling & passivation, blasting.