Nuclear sector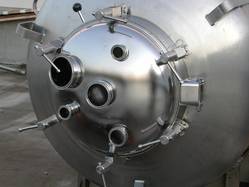 Electropolished surfaces absorb a factor 10 less radioactivity compared to non treated surfaces, and are very much easier to decontaminate.
Because of the fact that electro polishing reduces the surface up to 90%, the contamination is scaled down with the same number.
Micro deburring by electro polishing removes small burrs formed by grinding and bead blasting, resulting in smaller surfaces and better anti-stick properties. Because of the undulated profile the surface behaves even smoother compared to mechanical polished surface with comparable roughness Ra value. And on top of this an optimal corrosion resistance is obtained by the removing of impurities and iron enriching the surface with it's proper chromium.
Recommended treatments: pickling & passivation, electro polishing.
Please send your requests to: marc.quaghebeur@packo.com.