Food industrie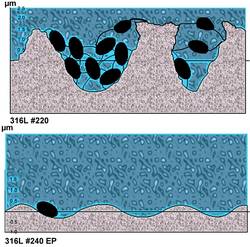 The food industry praises the use of electro polishing for its hygienic and easy to clean surface finish. And branches as baby food, mayonnaise, aromas and flavourings, tomato purée, yoghurt, egg products, meat processing, albumins, chocolate manufacturing, yeast, blood processing, breweries, citric acids, fruit juices,…benefit from the increase of taste and colour stability of their products en equipment.
On top of this, these surfaces also have to withstand corrosive action of often chlorine-based disinfectants.
Every company concerned about hygiene will benefit from electro polishing. The savings on cleaning costs after a electro polish treatment are impressive.
The sharpening of knives through electro polishing prevents that metal particles contaminate food.
Electro polishing for the food industry realizes a resistant non-flaking finish:
Colour proof and temperature resistant
Perfect ecological alternative for synthetic coatings like PTFE,...
Shorter CIP/SIP times (with less waste as result)
Durable and corrosion resistant
Treated AISI 304L gives better corrosion resistance then untreated AISI316, what makes it suitable for food (EHEDG, FDA, EN, ASTM, NACCP)
Process friendly anti-stick
Better dosing and mixing because of smooth surfaces
Taste, smell and colour neutral because Cr2O3 is many times less solvable in acidic environments then iron.
Recommended treatments: grinding to roughness, electro polising, micro-deburring, pickling and passivation.
Please send your requests to: marc.quaghebeur@packo.com.